Leadership
Our Elders
Ron McDaniel - Chairman
John Gibson
Joey Martinez
Michael Fletcher
Our Pastor
Chris Whorton
God has been so gracious to me. First and foremost, God has given His Son Jesus to die in my place for my sins that I would be forgiven and become his child. Second, He has blessed me with an amazing wife for over 23 years, Corrie, and has given us 7 wonderful children to love and raise for Him. Third, God has called me to serve Him in pastoral ministry for more than 17 years, and we especially praise Him for leading us to serve here at HBC in Gravette, Arkansas. I welcome any questions you may have and look forward to meeting you!
Associate Pastor
Mitchell Yost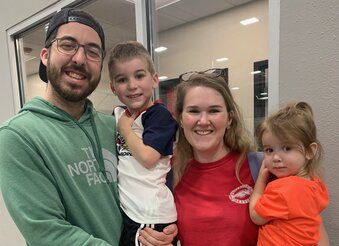 God is great and gracious, and the Yosts strive, though imperfectly, to make much our great and gracious King. I am ever thankful for the life that I get to lead as a husband, father and pastor. Jesus saved me from the depths of my sin, and I seek to humbly serve him with gratitude in all that I do as a teacher and shepherd of Christ's church.
Sarah and I met in college and have been married for six years. Our two children, Judah (4) and Ellie (2) are precious gifts from the Lord and we love them. I have been blessed to have served Christ in ministry for nearly ten years, while coming to Heritage in May 2022. I am here and available to serve you as we seek to follow Christ together!
Our Youth Ministry Leaders
Jared & Corey Addison
Red & Nikki Klingler
Our Children's Ministry Leaders
Adam & Audrea Vore - Adventure Club
Dona Flynt - Nursery & Toddlers
Our Women's Ministry Team
Caroline Martinez
Bethany Soule
Our Men's Ministry Team
Elders/Pastors
Our Worship Ministry Team
Mitchell Yost
Thomas Tryon
Kelly Britton
Michael Fletcher
Chay McDaniel
Austin Maddox
Bethany Soulé
Candice Castillo
Our Media Ministry Team
Stuart Allen
Payton Elkins
Ryan Elkins
Martin Provencal